The MyNoke Purpose & Culture was developed by our people, for our people
The resulting values lie at the heart of our culture, and we live and breathe them every day.
They are simple, short and powerful, they reflect the passion and involvement we look for in our team and they are essential in the search for future team members.
Our people understand they are the centre of our universe. If we take great care of our people, our people will take great care of our customers and stakeholders.
Our Inspiration
MyNoke is inspired by 3 overarching objectives
We believe that if we care for our land and our people, we will be able to achieve our aspirations whether personal, as a team, or as a company.
1
manaaki whenua | care for our land
We strongly believe we need to care for our land and our environment.
We see our role as protectors and guardians of our environment in our lifetimes so that we leave a sustainable and healthy environment as our legacy for our tamariki and mokopuna; our future generations.
2
manaaki tangata | care for our people
Our people collectively identified six core values that bind us together as we work to achieve our aspirations.
These values are inclusion, adaptability, valuing everyone, walk the talk, respect and diversity and all are lived and breathed daily by our people.
Our values are represented by the branches of our Pohutukawa – we are strong and tenacious, we aim high and support each other to grow to maximise our potential as individuals, as a team and as a company.
3
haerewhakamua | go forward and achieve
The Pohutukawa flowers bloom boldly and brightly and represent the six aspirations we share and strive to achieve each day: opportunity, happiness, satisfaction, acceptance and above all, contribution.
Through our work we know we are contributing daily to rebuilding a healthy environment and healthy natural ecosystems – the legacy we aspire to leave for the future and which completes the circle of life. Soil to soil.
The Pohutukawa Tree
The New Zealand native Pohutukawa tree was chosen to represent our purpose and culture for its vibrancy, strength, and tenacity while being precious to New Zealand. Growing in a circular direction, our purpose and culture tree gives a nod to MyNoke's ethos of a circular economy and the circle of life.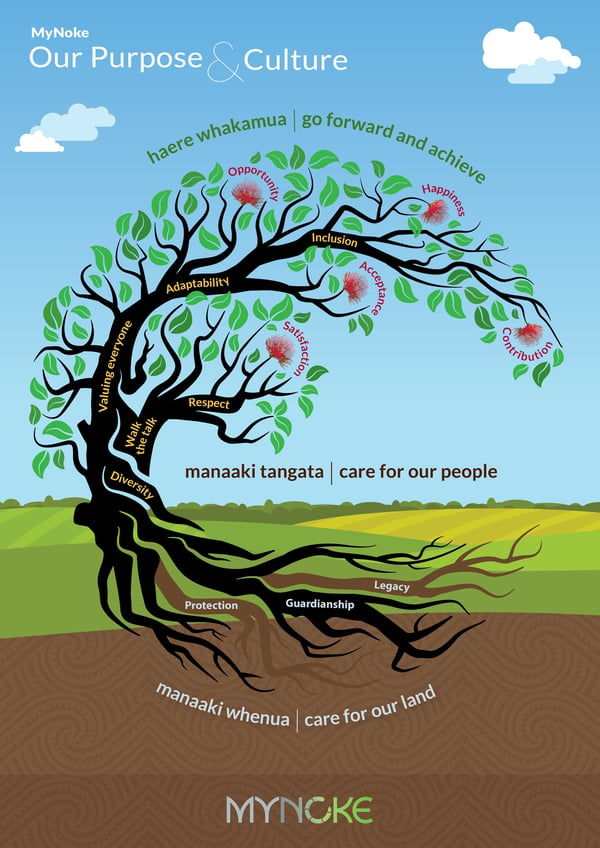 We live our values and hire based on them too!
We go to great lengths to ensure that every team member understands what it means to live our values. We spend a lot of time with our people so every team member understands how they contribute to our culture and how our values are lived each day. We know that a great team culture evolves with time, attention and care.
It's a journey, not a destination. It is a priority, and so we hire people based on culture fit first. Character and attitude are innate, skills can be learned. However, creating a great team culture is a journey, not a destination. It's an evolving process that requires on-going attention, care, and evaluation.
In the end, the efforts are worth it because we'll not only have improved the lives of our team members, but we'll have also furthered our impact on the world and advanced the causes we so passionately champion. That, after all, is what we're here for.